Immortal™ Cosmetics Products

Immortal™ Body Shimmers Available Upon Request.
Please call 401-316-1040 to order.

Immortal™ Cosmetics is pleased to make our products available for online purchase using any major credit card.

Explore our great line of cosmetics by clicking on the buttons above. Then add the items of your choice to your shopping cart. Your purchase will be processed through our online retailer, CCNow, via a secure server.

CCNow Customer Service will assist you with:
questions about an item on your credit card bill
looking up the status of an order you've placed
cancelling an order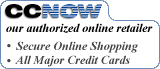 There are no refunds or exchanges on cosmetics.
For CCNow Customer Service, call toll free 1-877-CCNOW-77
or E-mail service@ccnow.com
CCNow will respond to your question within one business day.